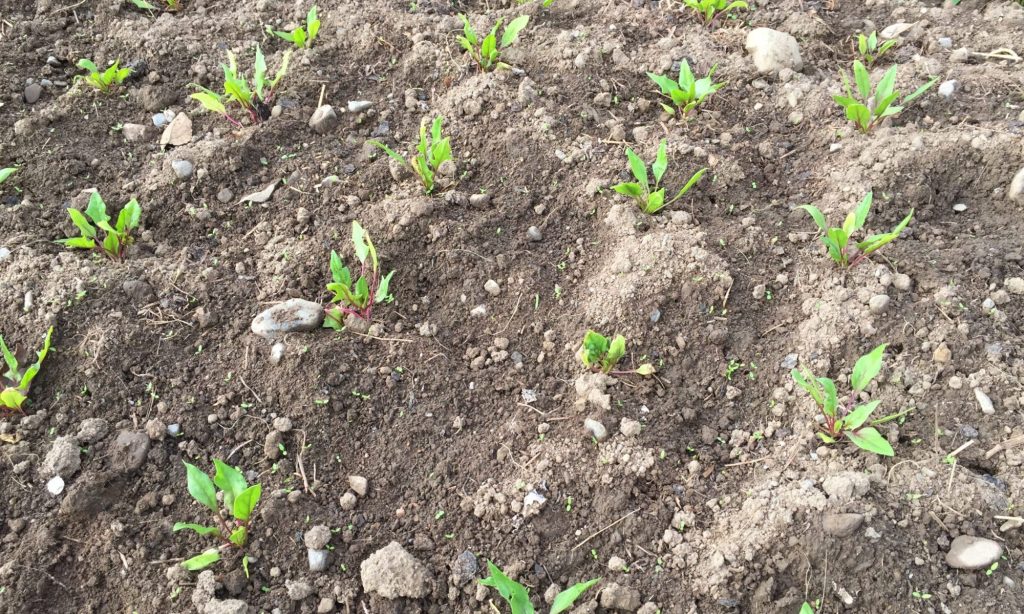 Newly transplanted Beaujolais Spinach stretches to greet the sun and soil
Spring is nearing its end and it has been a busy one here at the farm! These beautiful sunny days interspersed with rainy ones have made for a lovely transition for the trays of seedlings that have been cozied up in our greenhouses since March. The fields have become a colorful patchwork of greens, reds, and purples. Jason and I agree that farming has become somewhat of a creative outlet for us both.
The sheep, along with 9 new lambs born this spring, have all settled into their summer lodgings. They'll be away until Tom's return this fall. Hope's Edge feels strangely quiet without their presence here. Tom's presence, too, has been waning as he prepares to depart for his bicycle trip. We will miss his company and mentorship, but have gathered a strong team of volunteers to help us take care of the many tasks involved in growing food for a community. A huge "thank you" to those who stepped up to help out!
There are many ways to farm, and our goal this season is to follow in the thoughtful, collaborative and respectful footsteps of Tom (and Rudolf Steiner), while also implementing some permaculture-inspired practices that we believe will further support our partnership with nature. We're doing some intercropping, sowing mixed cover crops and living mulches, and brewing up homemade foliar sprays made from comfrey and other nutrient dense plant matter. It is our hope that this combination will help to reduce the time we'll need to spend weeding and dealing with pests! Hope's Edge has been dedicated to growing chemical-free produce for over 20 years and we are always learning new ways to collaborate with nature.
It has been a busy start to the season with the addition of weekly farm visits from the 6-8th grade students at Sweetland School. This creative, hardworking group of young people have helped with bed preparation, seed starting, transplanting, crop rotation, and bed mapping and labeling. For their final project, one group of students designed and built a mobile farm stand for us to use on the Sweetland School grounds, just across from Hope General Store on Church Street. You'll see our vegetables and seedlings at the farm stand starting this week! Another group designed and painted a new mural on our CSA shed doors that beautifully represents Hope's Edge Farm. Both were hugely appreciated gifts! (Photos below show work in progress with finishing touches to come.) Thank you so much Sweetland School!
As we prepare to bring our quiet farm work to its public purpose with the opening of the farm stand and the first CSA distribution next week, we are grateful to feel the sense of true community coming together here at Hope's Edge. Thank YOU for your unique part in that!
~ Rachel