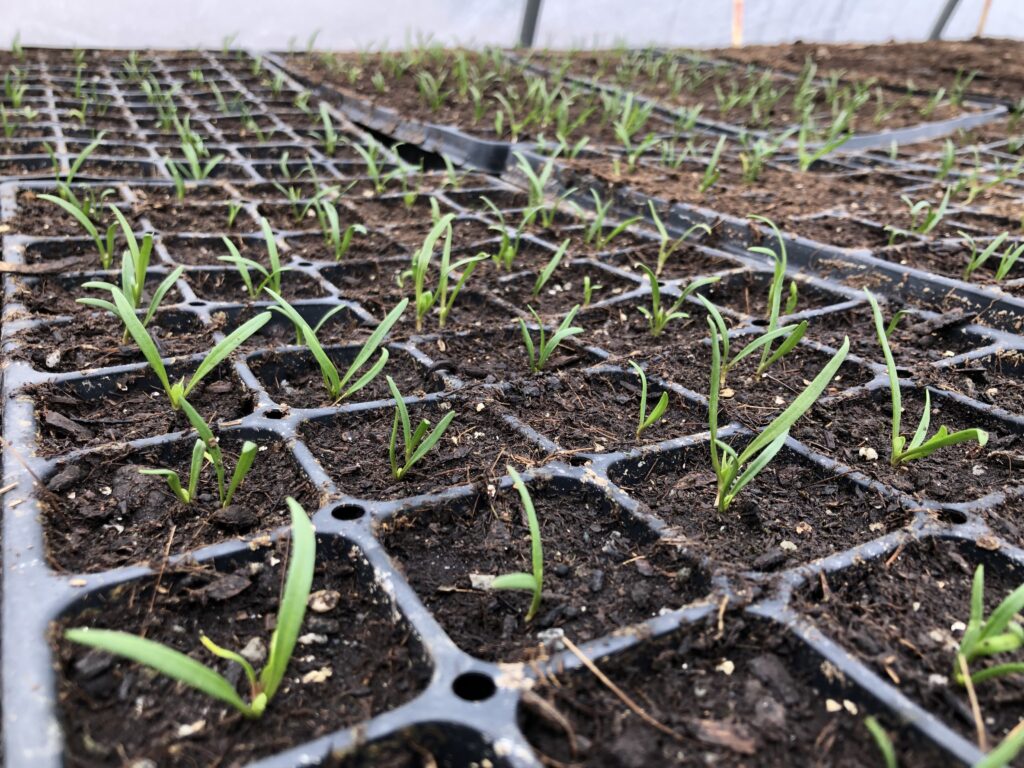 To all our supporters, past and present, near and far –
After 22 years of growing food for our community, Hope's Edge Farm continues in its transformative phase. Transformative in many respects. First of all, Holly is in a process with Maine Farmland Trust and Georges River Land Trust to insure that this land will remain farmland forever. Knowing that this beautiful property, which has fed so many, will have the potential to continue to feed families for generations to come is, for me, heartwarming. I feel that this is an act of generosity to an entity that has itself been so generous.We hope to provide more information about this later in the year and someday will celebrate it.
Another transformative aspect for the immediate future concerns my own personal relationship to the ongoing working of this land. For 19 years of the last 20+, I have been focused on growing food for a CSA. For this year, I am choosing to scale back production – growing primarily for local food banks. This means growing fewer crops on fewer acres, thus requiring less labor. This decision is not coming out of the blue, but has been ruminating in this skull of mine for several years. It comes as an ongoing question of how I might farm in a sustainable way as I move into my 70s.
As many of you are aware, in 2022 I chose to take a sabbatical from the Farm – bicycling across the northern US from late June until early September. Part of the impulse behind this crazy venture was to give myself the opportunity to contemplate my farm future. In my absence, Jason Rawn and Rachel Olsen chose – on a trial basis – to take on the day-to-day running of the Farm, reinstating a smaller version of the CSA and market stand. Despite their minimal experience and the pressures of a hot, dry summer, they were able to produce a respectable harvest, feeding their CSA members produce and beauty into the autumn. This experience, although rewarding (particularly with respect to relationships formed with their shareholders) and educational, crystalised for them the fact that running the Farm long-term was not in their future.
As for me, pedaling a bike for an average of five hours a day gave me a lot of time to think and it became clear, as the miles passed, that I want to focus more on growing for a less advantaged and perhaps food insecure population. It wasn't clear exactly how I would do this, but I have settled on the food bank option for now.
Plans for the Farm Going Forward
Since beginning this venture as a much younger body, it had been my hope that by this point the "right" individual would come forward to take over the management of the Farm. Now, as the time of my stepping back has arrived, it has become clear that this unique arrangement that Holly and I entered into 22 years ago, requires a unique individual(s) to step into this position. Holly and I will work actively this year to find that right individual and to come up with a plan for the Farm that incorporates all that we appreciate most from the last 22 years…especially the community that has developed here. We will be sure to keep you posted on these developments, and on the progress with the land trusts.
Final Thoughts
Recently, I have estimated that, up to this point, Hope's Edge Farm has produced at least 250 thousand pounds of vegetables and fruit, plus lamb and flowers. In the words of the Vietnamese monk Thich Nhat Hahn, "This food is a gift of the whole universe. The earth, the sky, and much hard work." With these words, he is giving recognition to the seen and unseen forces which sustain our lives (and the life of the planet). The "hard work" he refers to was accomplished by all those who toiled to produce the quarter of a million pounds of produce: Holly as the landowner, co-workers, apprentices, volunteers, and myself. The "Earth and Sky" gives a bow to physical nature – sun, soil, rain, plants, microbes, etc. And "the whole universe" (as I interpret it) recognizes the non-physical realm of Spirit. In Biodynamic terms, this would be the elemental beings of earth, air, fire and water and spiritual forces– love being just one example.
Finally, I want to recognize you and the thousands of consumers who have partaken of the food produced from these soils over the last two decades. This list includes the CSA members (from 2002-2019 and from 2022), two local restaurants, three schooners going out of Rockland, the Good Tern Co-op, AIO Food Bank, and market stand customers. I wish to thank all of you for supporting us through the years. I have said it often that growing for a community we know is so much more satisfying than growing for the general marketplace. I realize that this message will only reach a small number of all of the above cited beneficiaries, but I believe that gratitude is another one of those spiritual forces and so, whether you read these words or not – the force will find you. Thank you, thank you, thank you.
Tom